Alpharetta Ga pressure washing service | First in Pressure wash
First in Pressure Wash: Your Premier Choice for Elevated Properties in Alpharetta 
Top Rated Alpharetta pressure washing service
Welcome to  First in Pressure Wash, your premier destination for professional pressure washing services in Alpharetta GA. With a commitment to excellence and a team of skilled professionals, we take pride in delivering top-notch services to enhance the aesthetic appeal and longevity of your property.
We been in the business for over 20  years. We use only the most up to date techniques and cleaning solutions, assuring you that the job will be done right the first time. 
Our objective is to create a long lasting relationship with our customers providing the most reliable and professional services. competitive price. 
We are licensed and insured for your protection   .
Driveway & Sidewalk Pressure Washing:
Say goodbye to unsightly stains on your driveway and sidewalks. Our pressure washing expertise removes even the toughest marks, restoring the pristine look of your outdoor spaces.
Roof Cleaning
First in Pressure Wash: Revitalize Your Roof with Expert Roof Cleaning Services Restore your roof's vibrancy and extend its lifespan with First in Pressure Wash's meticulous roof cleaning services.
Decks & Fence Cleaning:
Rejuvenate your outdoor wooden structures with our Deck & Fence Cleaning service. Bid farewell to mold, mildew, and discoloration, and welcome back the natural beauty of your deck and fence.
Graffiti Removal:
Unexpected graffiti can be an eyesore. Our prompt and efficient Graffiti Removal service ensures a swift restoration of your property's aesthetics, erasing unwanted marks with precision.
Gutter Cleaning:
Maintain the integrity of your home by keeping the gutters clean. Our Gutter Cleaning service ensures proper water flow, preventing potential water damage and extending the life of your gutters.
Why Choose Our Pressure Washing Services?
100% Satisfaction Guaranteed.

Specialized Equipment for Every Surface

Local Atlanta Owner-Operated Company.

Expect a quick response to every request.

We guarantee that the service will be completed with excellence.

We use better chemicals, that equates to a job that can be done safely, effectively and with less pressure.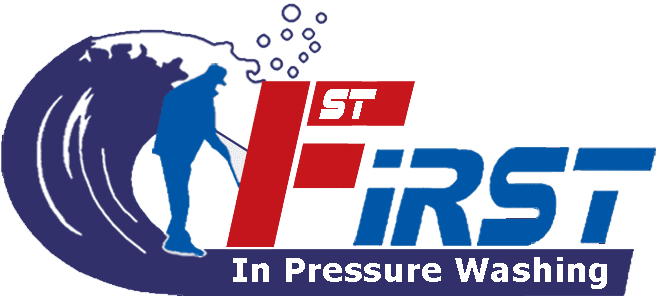 First in Pressure Wash: Your #1 Choice for pressure washing in Alpharetta
Customized Cleaning Plans: We tailor our services to your specific needs and budget, addressing your concerns and exceeding your expectations.
Competitive Pricing: We offer affordable rates for high-quality commercial pressure washing, maximizing your value.
Improved Appearance: Pressure washing dramatically enhances your curb appeal, attracting customers and boosting your brand image.
Extended Property Life: Protect your investments by removing harmful contaminants that cause wear and tear.
Safer Environment: We eliminate slippery surfaces and other hazards, ensuring a safe space for everyone.
Alpharetta pressure washing service
Investing in your property's exterior is crucial for maintaining a professional and welcoming image for your business.
Entrust Your Home to the Experts: Experience the Difference of Professional Pressure Washing
First In Pressure Wash offers a comprehensive range of pressure washing services designed to meet your specific needs. We can remove dirt, grime, graffiti, and other contaminants from a variety of surfaces.
Contact us today for a free quote! and get the best pressure washing services.
Frequently Asked Questions (FAQs)
Is pressure washing safe for all surfaces?
Yes, when done by professionals like us, pressure washing is safe for a variety of surfaces. We adjust the pressure and use suitable cleaning agents to ensure no damage occurs.
How often should I schedule pressure washing for my home?
The frequency depends on factors such as local climate and the surroundings. Generally, we recommend an annual cleaning for homes, but commercial spaces may require more frequent maintenance.
Can pressure washing improve the value of my property?
Absolutely! A well-maintained and clean property has higher curb appeal, positively impacting its perceived value in the real estate market.
Are your cleaning agents environmentally friendly?
Yes, we prioritize eco-friendly practices and use biodegradable cleaning agents that are safe for the environment.
Is it safe to pressure wash my delicate garden structures?
Yes, it's safe when done by professionals who understand the sensitivity of delicate surfaces. Our soft washing services are specifically designed for such structures, including garden ornaments, delicate planters, and decorative elements. The low-pressure technique, along with environmentally-friendly cleaning agents, ensures a gentle yet effective clean without causing any harm to your beautiful garden structures.
Can pressure washing prevent the growth of mold and mildew on my property?
Absolutely! One of the key benefits of pressure washing is its ability to eliminate mold and mildew, preventing their growth on your property. Mold and mildew not only compromise the appearance of your surfaces but can also pose health risks. Our pressure washing services, equipped with environmentally-friendly agents, target and eliminate these harmful contaminants, ensuring a cleaner and healthier environment for you and your family. Invest in our services to proactively combat mold and mildew, preserving both the aesthetics and safety of your property.